By Sofie Trier Jensen
Social Studies of Gender, Cohort, 2016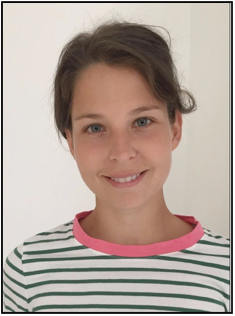 Sofie Trier Jensen is a Graduate School alumna who completed her master's degree in Social Studies of Gender with a major in Gender Studies this past spring 2018. During her third term of studies at Graduate School, Sofie had the opportunity to intern for Mangfold, Cecilie Nørgaard in Copenhagen which is an organisation that works to integrate research-anchored perspectives in culture and education. Here's a look at an abridged version of Sofie's final internship report for the course.
An Exploration of Form and Content
Is it possible to create knowledge that is accessible to more people, while maintaining the same validity and status as that of a traditional academic writing? That was what I wanted to explore in my internship report.
My main claim is that guidelines and procedures about academic writing are not objective or neutral standards, but moulded by political forces. The ongoing neo-liberalisation of the education sector, characterised by evaluations, rankings and calculations, are thus in risk of suppressing the critical potential of feminist studies and other critical fields. My appeal is thus that we should make deliberate and judicious choices, rooted in our methodology and not just thoughtlessly inscribe our material into fixed templates on the basis of old habits and the hunt of academic recognition.
Accordingly I have create a collage with the purpose of making gender socialising as an omnipresent praxis more visible and relatable – to more people – also outside of academia.
The Big Blue Binder
When I was a kid I used to flip through this big blue binder. On the back of the binder it said SOFIE, written with capital letters. The binder was about me! The binder documented my entire life with pictures, a birth certificate, birthday cards, drawings… I would flip and flip and flip from one end of the binder to the other glaring at myself laughing, eating, playing, sleeping… First day at kindergarten, holidays, holding my baby-sister for the first time, losing a tooth, building a snowman, having ice-cream. Flip flip flip – and as I grew the binder grew with me, more pictures, now statements from school, letters, even some of my hair glued to a piece of paper. I would gradually understand more and more about time, about who I was and where I came from. I really loved that binder, it made me feel as if I was a part of something wonderful and that the life that I lived was just picture perfect.
I recently revisited the binder. I took it from my bookcase – dusty old thing and heavy too – and placed myself in the corner of my sofa with the binder in front of me. Soon I got pulled into the story of my life once more. This time however I am an adult, an analytical and critical adult – and now I see things differently.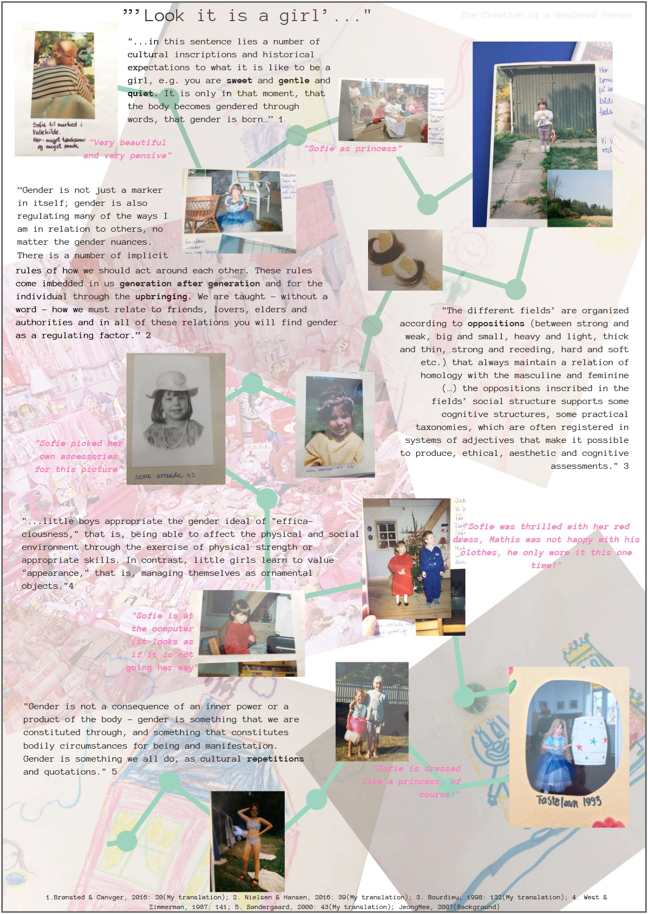 The Aftermath
I am aware that there might be some without a photo album of their own, some without photos at all, some without family members to take their photo or maybe someone whose photos for some reason are too painful to look at. Nevertheless, my hope is that most readers will be able to relate to the universe of the collage, that they will experience some sort of familiarity with the composition of the pictures, with the atmosphere, with the motives of the drawings, and with the praising words from a parent. That they will understand and sense the continuity and repetition of a certain gendered existence and that they, regardless of their own gender identity and expression, will recognise the mechanisms of gender socialising. Repetition is a central theme in my collage: repetition of words, expressions, and visuals, repetitions in the sense of continuity throughout time and space and in the sense of a tireless child flipping and flipping in a big blue binder, day out and day in, year after year.
References
Avenstrup, Kristina & Hudecek, Sine (2016) Køn i pædagogisk praksis (Læring i dagtilbud). Dafolo
Bourdieu, Pierre (2007) Den Maskuline Dominans. 2. Udgave. Århus Tiderne Skifter
Brøndsted, Lone Bæk. & Canger, Tekla (2016) Køn – pædagogiske perspektiver. Samfundslitteratur
Nielsen, Steen Baagøe & Hansen, Gitte Riis (red.) (2016) Køn, seksualitet og mangfoldighed. Samfundslitteratur
Søndergaard, Dorthe (2000) Tegnet på kroppen. Museum Tusculanum
West, Candace & Zimmerman, Don H. (1987) Doing Gender. Gender and Society, Vol. 1, No. 2.
Yoon, JeongMee (2007) The Pink Project — Jeeyoo and Her Pink Things, Light jet Print