Congratulations again on being awarded the Researchers' Grand Prix for being the best in Sweden at presenting your research – how does it feel?
MB: Absolutely super rewarding! I spent so much time working and reworking small transitions in my presentation, to keep a compelling narrative while maximizing its effectiveness for a public audience. I bounced ideas off of colleagues at Lund and spent many hours rehearsing one version only to change it later. So to deliver a final product on stage that resonated with both judges and the public – it's an awesome feeling. It simply shows that creativity, collaboration, and hard work pays off!
Your research is highly relevant, being about social media and politics. Tell us a bit about it.
MB: I'm interested in how politics happens on social media. Given that platforms are designed products, I try to understand how specific features matter for processes such as campaigning, political discussions, or citizens' news environments. There's a lot of social media data out there, but we're still not quite sure what that data really mean. So what I'm trying to do with my research is go from questions like: How did X event happen on Y platform? to more substantial questions like: What can an analysis of this data reveal about politics more broadly?.
Using an example from what I presented at FGP, I studied the emotions that politicians communicate through their facial expressions on Facebook and Instagram. Rather than ask how campaigns use pictures on social media, we explored how different platform audiences react to emotions in pictures. We found that Happiness performs well on Instagram but not Facebook, which suggests that older users on Facebook prefer 'Calm', serious leaders. And we think this signals something bigger about what social media data – such as reactions to politicians' Instagram pictures – can inform us about what types of leaders citizens prefer.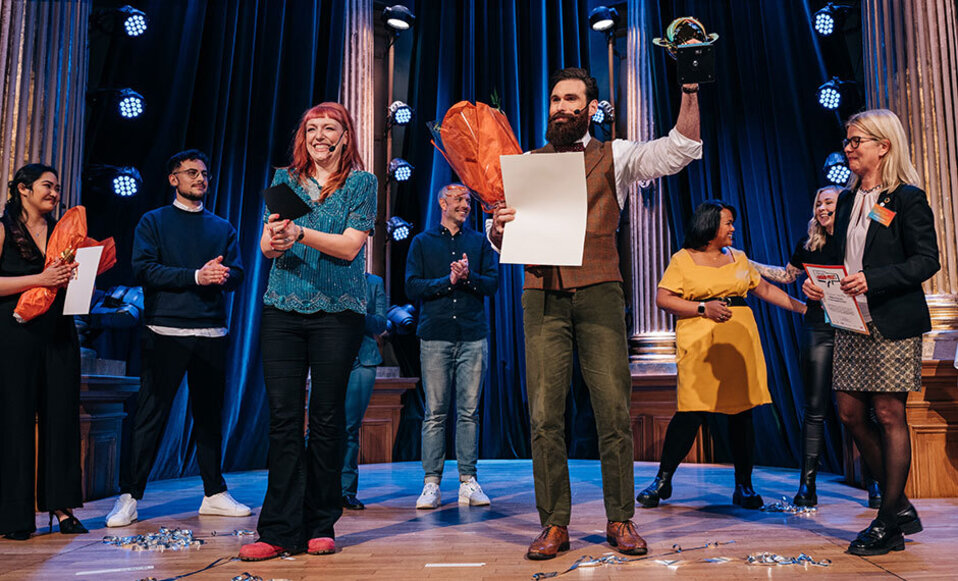 What makes for a good presentation?
MB: Good slides that connect to a compelling narrative. A good presentation needs a flow, and for research presentations we have a standard template for that (e.g. Intro, research questions, theory, etc.). But public presentations need a rethinking to a more traditional narrative structure (e.g. beginning, middle, and end). I think all the finalists at the competition had compelling narratives, but it's the slides (or some other form of engaging visuals) that set the top 3 finalists apart.
What are your top tips for academics looking to improve their presenting skills?
MB: Two tips. #1 is anticipate the audience. Try to find out who the audience is that you'll be presenting to, and adjust the content accordingly. For example, a little humor is a great way to win over a general public, but it's perhaps not appropriate for presenting to policymakers or researchers from 'more serious' academic traditions. Or, if you're presenting on the road, do a bit of background research into the city or university you'll be presenting at, so you can provide an anecdote or fun fact that helps build a connection with the audience.
#2 is to design slides with the dual purpose of being a) engaging for the audience while b) serving as 'chapters' for your presentation. In other words, design slides so that the sequence of animations jog your memory of what you want to say, rather than writing down notes or a script. Literally nobody wants to sit through a presentation that's being read to them. Instead, you can include animations and visuals that engage you, so that when you see them pop up you know exactly what you want to say about them. If the slides are engaging to you and structured well, then it's quite natural to move through the presentation while saying something interesting about each slide.